At First Sight
The Company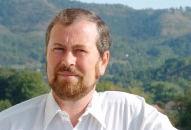 The SPECK SENSORSYSTEME GmbH was first established by its CEO Uwe Speck in 1994 as an individual enterprise and was included in the GmbH in 2004 .
The base of the company is built by solid professional education and industrial practical experience of its employees in the field of precision tool building at Carl Zeiss Jena.
Our business areas are development, fabrication and marketing of spectral, optoelectronic sensor technology and industrial image processing components.
The experienced and innovative team originated from the field of optics, mechanics, electronics and software development is specialised in custom-made solutions and manufacturing of intelligent, measuring, optoelectronical sensor systems – from single devices to volume production.
When standard products can't handle your tasks the experts of Speck Sensorsysteme GmbH will develop custom-made solutions for you!
flexible, reliable, precise